SCHWEINSTEIGER SO FAR IN THE MLS
SCHWEINSTEIGER SO FAR IN THE MLS
After a standoff with the Manchester United management, German midfielder Bastian Schweinsteiger agreed a move to America to feature for Chicago Fire.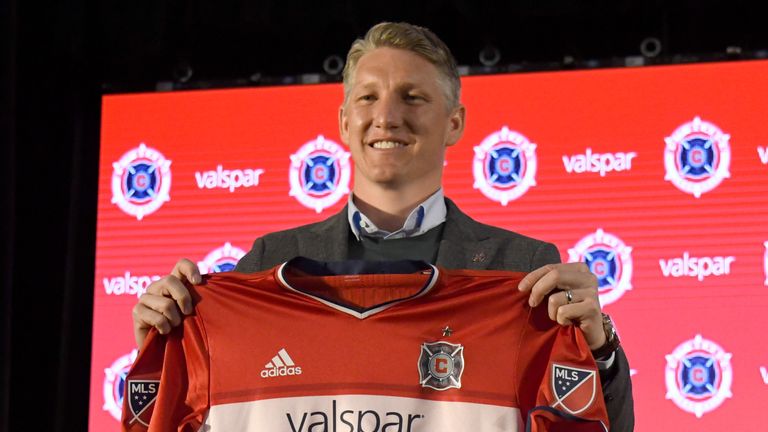 His 20 month stay at Old Trafford was not as pleasurable as many would expect – well, at least he got good money for his time. In the whole of the 2016/17 season, the former Bayern Munich star played just 4 games.
The Chicago based outfit made Schweinsteiger one of the top ten earning stars in the MLS when they offered him £70,000 a week. After ten games, the 32-year old has fared better as he has scored twice, recorded pass accuracy of 84.6 with average overall rating of 7.30.
The midfield veteran seemed to have settled well in the MLS as his career winds down. It was just 17 minutes on the pitch on his debut when he netted to send a message to the fans. After an initial spark, the goals seemed to have slowed down.
The player spoke broadly about the league recently, claiming the MLS was different. He hinted that the teams were inferior but that he expected it.
"It can be frustrating on the pitch at times when things discussed are not implemented or when somebody loses a ball or just does not have an eye for the teammate. I don't blame anyone for it, that's my problem. I need to adapt to the league and cope with those situations," he was quoted to have said.
"Sometimes things happen you just don't understand. This might be referee decisions or the running paths or passes of a teammate. It's different than in Europe, but you have to take things as they are," he added.
Fire is doing well in the Eastern Conference so far. The player seemed to have returned to winning ways, contributing to the team and playing regularly. He is doing well anchoring the team as they dream of the MLS Cup final.